2023 UUA General Assembly (GA)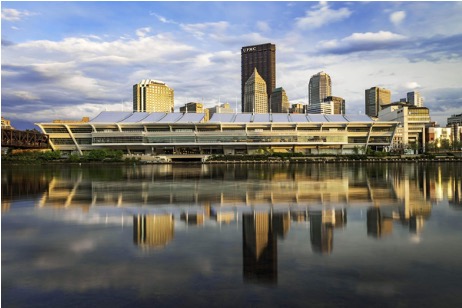 June 21 – 25, 2023
Online or In-person in
Pittsburgh, Pennsylvania
Come Get Inspired! General Assembly (GA) is the annual meeting of the Unitarian Universalist Association (UUA), which supports over 1,000 congregations in the U.S. It's an immersive, uplifting experience that is open to everyone, whether you are a lifelong UU or just checking us out.
What You'll Experience. Attendees explore the underpinnings of Unitarian Universalism and lean fully into our mission and principles [link to About/Mission & Vision]. You'll have a rich choice of all-attendee and smaller group services, workshops and discussion groups, outings, meals, and ample opportunities to network with old friends and make new ones.
Congregation Delegates. Each certified congregation that has completed annual UUA certification can select delegates, who make policy for the Association through the democratic. Albany UU is sending 7 delegates this year.
How to Register and Attend
Date: June 21 – 25, 2023 online or in-person
Location: David L. Lawrence Convention Center, 1000 Fort Duquesne Blvd, Pittsburgh, PA. Google map
Registration: Registration is open. Register early to secure the lowest rates. Volunteer opportunities and financial support are available.
Travel Tips: More about traveling to Pittsburgh
Agenda: View the 2023 General Assembly Schedule to see the lineup of informative workshops, inspirational worship services, and more!
Sponsors: Thank you to our 2023 General Assembly Sponsors
Exhibitors: View our 2023 General Assembly Exhibitors
[Jan sent the following paragraph to Peggy Sherman to check if correct and whether she wants to create a Roles & Responsibilities PDF]
Application to be a Delegate: All 7 delegates have been selected but it you would like to be on our list of backup delegates, please complete the Albany UU's Interest Form. Requirements and responsibilities of delegates are described here (document to come). As noted on the form, delegate registration fees will be reimbursed by Albany UU, but travel costs are the delegate's responsibility.
Contact Peggy Sherman with questions, pegmcgsherman@gmail.com.
---
[1] Combination of UUA and Albany UU information, reformatted, and added clarification of language at the end.