Children & Youth Team
We want your child's experience at Albany UU to be as positive as possible. Please contact Director of Programs for Children & Youth Elizabeth Baldes with questions, to enroll your child(ren), and to request any additional support.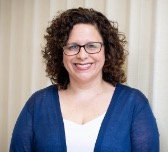 Elizabeth Baldes, Director of Programs for Children & Youth Email
Elizabeth joined the staff of Albany UU in August 2018, becoming Director in June 2022 . Along the way she served as Religious Education Program Assistant, RE Program Coordinator, and Acting Director of RE. Elizabeth draws on her experience as an early childhood educator and childcare provider, as well as her volunteer work with Albany UU (teaching teams and Religious Education Council) to help provide a supportive, engaging place for children and youth to learn, grow, and connect. She is particularly grateful for the caring and committed community involved in our Programs for Children and Youth.
A graduate of Empire State College, Elizabeth is a lifelong learner who enjoys people, stories, music, and the outdoors. She and her husband Rich live in Albany where their lively household includes two daughters, three pets, and way too many books and records.

Paul Brewer, Programs for Children & Youth Assistant Email
Paula Brewer moved to Albany NY in 1991, and shortly thereafter began to attend Albany UU (AUU). She became more active in AUU after the birth of her daughter, Anna, in 1996, focusing her activity on the Religious Education Program. Her volunteer AUU RE activities followed Anna as she grew, beginning with her coordination of a monthly Parent Group potluck and discussion group. Being older parents, Richard and Paula found comradery with other similar parents in this group. Paula followed Anna through the RE program volunteering in the Toddler Room and into other grades as Anna got older. She moved to being a youth group advisor, so that she could learn how to deal with her soon to be young adult child.

Paula's commitment to RE included 3 terms on the RE Council and one term as RE Council Chair. She most recently assisted with the 8th Grade Reading Group. Richard and Paula are grateful for the Albany UU 'village' and its excellent RE program, which helped them to raise their daughter into a responsible adult UU. She is excited to assist Elizabeth Baldes and Albany UU in continuing its excellent Children & Youth Programs and working with consultant Michele Townsend Grove to ensure that RE continues to meet the needs of the next generation of UUs.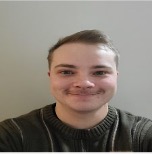 Adrian Cattell, Lead Youth Advisor Email
Adrian is an avid reader, writer, and outdoor enthusiast. He is passionate about the environment, enjoys traveling, playing games, and meeting new people. When the weather is warm you can find him cycling around town! Adrian graduated from Arizona State University with a Bachelor of Science in Urban Planning and is a lifelong UU. He also has a small dog named Minerva.