Brief History
Unitarians and Universalists have had a presence in Albany New York for more than 175 years. The Albany Unitarian Society was founded in 1842. Two years later, the Society purchased a church building on Division Street and installed its first minister, the Rev. Henry F. Harrington. In 1869, the church building was sold to retire debt, and in subsequent years the Unitarians met in a variety of locations in Albany.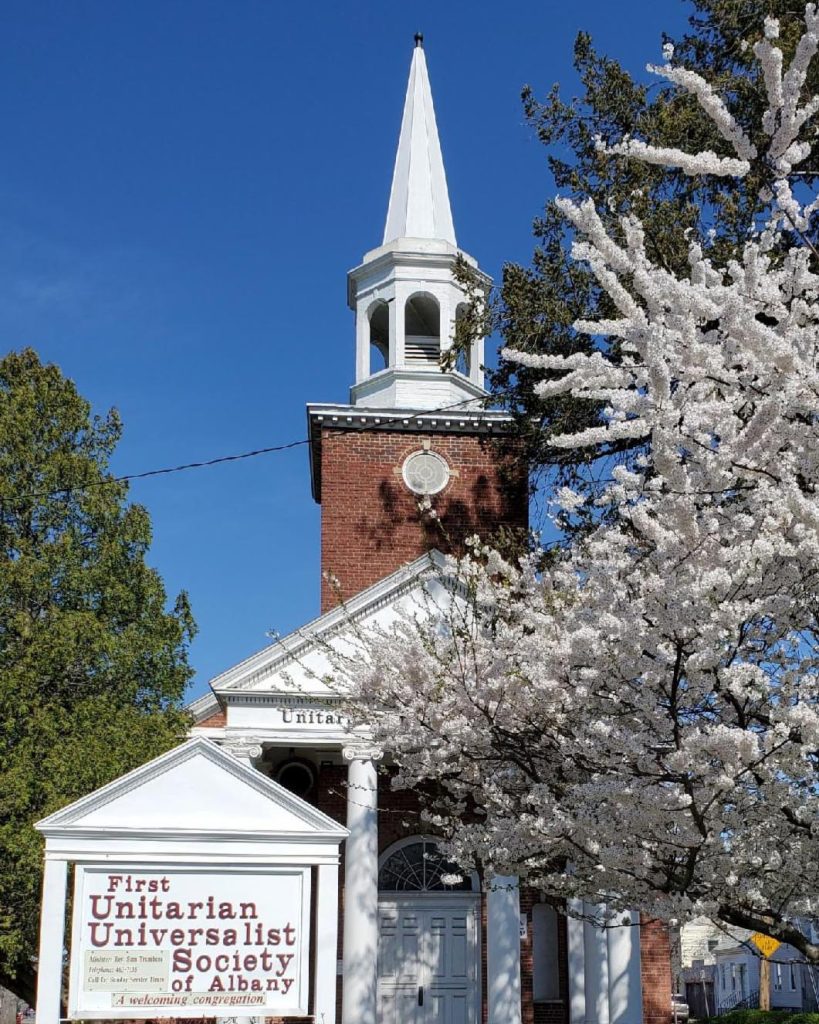 In 1895, the Rev. Dr. William Milton Brundage, previously a Methodist preacher, became minister of a revived Unitarian Society. In 1899, the congregation purchased the former United Presbyterian Church on Lancaster Street, near Eagle. After a 1905 fire severely damaged this building, Temple Beth Emeth and other local congregations offered the use of their facilities until repairs were made.
In 1925, Albany Unitarians built a new brick colonial church at the corner of Washington Avenue and Robin Street. The religious education and administrative wing was constructed in 1962, and an addition featuring classrooms and a new Community Hall was completed in 2007.
Our Albany UU congregation has a record of active involvement in our local community and beyond, including the following examples:
Frances Vosburgh, an active member, established the city's first birth control clinic in 1934 and was one of the founders of Planned Parenthood in Albany.
In the 1960's, Rev. Nick Cardell led members in protesting against the Albany political machine and the war in Vietnam.
Unitarian organizers of the Committee for Progressive Legislation successfully lobbied the New York State Legislature for the legalization of abortion in 1970.
In 1984, the congregation declared itself to be a sanctuary for Central American refugees and offered temporary housing. Again in 2018, Albany UU has declared itself to be a sanctuary congregation and is making plans to offer support and physical sanctuary to immigrants.
In 2004, Rev. Sam Trumbore performed the first two same sex weddings in Albany, three years before the passage of the Marriage Equality Act in 2011.
In 2016, the congregation built a new playground for Sheridan Preparatory Academy, located in the West Hill neighborhood of Albany, and we continue to assist the school with ongoing volunteer programs to this day.
It is with gratitude and humility that we acknowledge that we are learning, speaking, and gathering on the ancestral homelands of the Mohican people, who are the indigenous peoples of this land. Despite tremendous hardship in being forced from here, today their community resides in Wisconsin and is known as the Stockbridge-Munsee Community. We pay honor and respect to their ancestors past and present as we commit to building a more inclusive and equitable space for all.