Joy Library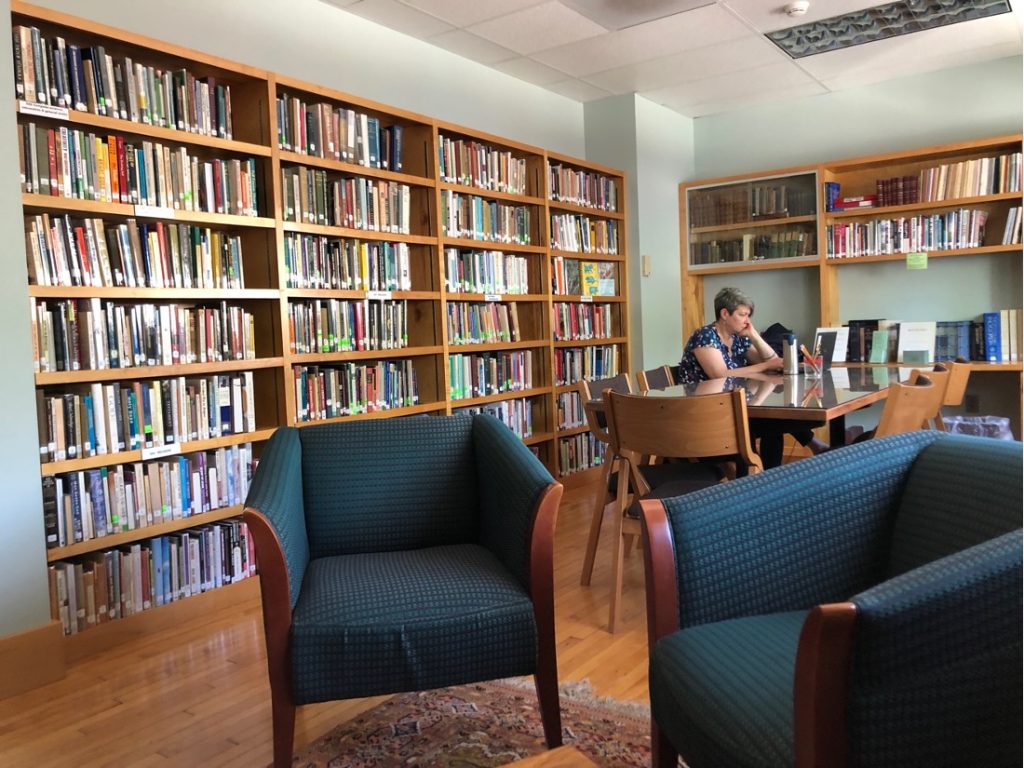 ---
The Charles R. Joy Library is located in Stott Lounge on the second floor. It is open except when Stott Lounge is in use for a scheduled meeting. Directions to check out and return books are posted in the Library. Borrowing is on the honor system.
See IMPORTANT June 15, 2023 Announcement below!
The Library supports the mission of the First Unitarian Universalist Society of Albany, and selectively collects and facilitates access to books on: Unitarian Universalism and other spiritual traditions, social and ethical issues, philosophy, theology, Bible study with a liberal religious perspective, and other issues of interest to our congregation.
The library catalog is online at http://www.librarything.com/catalog/joylibrary1885.
The library includes three special collections:
The Ed Ryman Collection on Buddhism and Taoism – The books in this collection are included in the online catalog and may be borrowed. They have call numbers prefixed with RY, and are shelved together in a dedicated bookcase.
The Frank Curtis Reed Memorial Art Collection – These books are not in the catalog, and are for use in the library only.
The Antiquarian Collection – These books are not in the catalog, and may be used only by appointment. For an inventory of this collection click here.
The Joy Library Committee presently consists of Paul Axel-Lute (Chair), Melanie Axel-Lute, Sally Knapp, Cassie Artale, Lucy Wrightington, and Todd VonHausen. The full committee is involved in choosing new books to purchase for the library.
For the library's Collection Guidelines, please click here.
To suggest items for purchase, offer books for donation, or inquire about joining the committee, email us at: joylibrary@albanyuu.org.
The library is named in honor of Charles Rhind Joy.
(Updated January 2020)
Important Library News June 15, 2023
Our church library is getting a makeover!
The Library Team has surveyed the congregation, talked to team and staff leaders, reached out to other UU churches, and carefully assessed our Joy Library and how it's used. We have a new Joy Library library policy, and some exciting changes coming in the arena of books for youth and families that the Library team and our RE staff will be implementing over the summer. Another current project is weeding our collection so that users can find the materials they want, and our space is used more effectively. Books withdrawn from our collection will be available on the two bookshelves outside the library for a month. If you would like to own any of the books, feel free to take and keep them. After a month, leftover books will go to a local library's Better World Books bin and be resold, donated, or recycled. Please contact Library Chair Mary Fellows with any questions at joylibrary@albanyuu.org.