Our Building
Our building is well-used by our ministers, staff, and congregation members. It also provides perfect spaces for rental for meetings, classes, and ceremonies such as marriages and memorial services. Our Sanctuary and Channing Hall were constructed in 1925. Our building has grown over the years with the addition of the Religious Education wing and administrative offices in 1962, followed by our beautiful Community Hall wing in 2007. All have benefitted from our sustainability improvements, including the installation of solar panels.
It is with gratitude and humility that we acknowledge that we are learning, speaking, and gathering on the ancestral homelands of the Mohican people, who are the indigenous peoples of this land. Despite tremendous hardship in being forced from here, today their community resides in Wisconsin and is known as the Stockbridge-Munsee Community. We pay honor and respect to their ancestors past and present as we commit to building a more inclusive and equitable space for all.
Special Needs Children. If you want your child to participate in the religious education program and feel that they may require special accommodation due to learning disabilities or behavioral issues, please contact the Director of Religious Education in advance so the best possible arrangements can be made.
Our facilities can be rented by organizations and individuals for meetings and functions. Find out more!
Sanctuary
The colonial-style Sanctuary has a barrel vault ceiling, tall arched windows and a custom-built pipe organ. The Sanctuary is used today for Mindfulness Meditation, Family Chapel, and Christmas Eve services, as well as some other services. Our regular Sunday worship takes place in the larger Community Hall.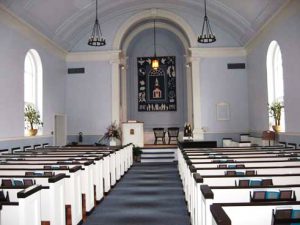 ---
---
Community Hall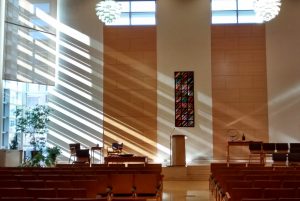 Community Hall has a quiet, modern grace. The soaring open space, filled with natural light, is the center of our church week. With flexible seating, it is used for much more than worship, both by us and by the local community. Our beautiful hardwood floor was recycled, with considerable volunteer effort, from a local public school due to be demolished. Refinished seats from the same school were installed in the balcony.
---
Channing Hall
---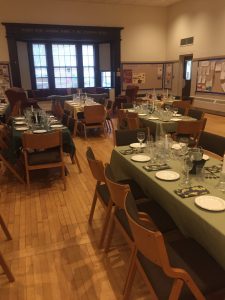 Our social hall is named after noted Boston minister William Ellery Channing. This large room serves many functions, the most frequent of which is Sunday morning coffee hour. The kitchen is connected to this hall.
Lobby
Our main lobby opens onto Washington Avenue and links Channing Hall with the hallway down to Community Hall. Both this entrance and the kitchen hall door on West Street have handicap ramps.
---
Religious Education Rooms
On the basement and second floors, we have 13 classrooms, with both age-appropriate and flexible options, and a library.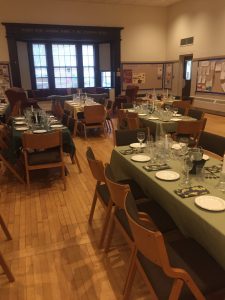 Sustainability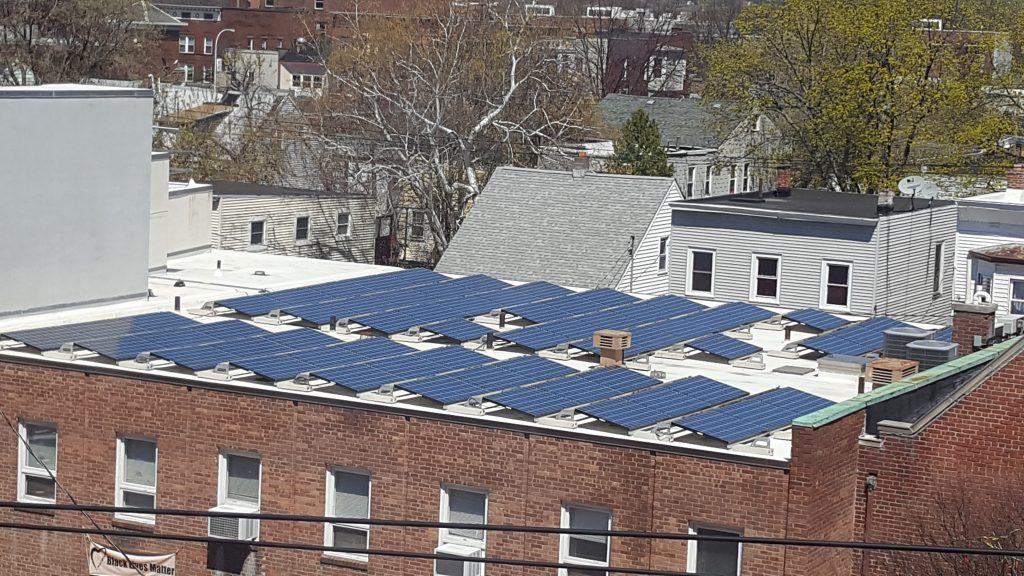 We take seriously our commitment to sustainability: Albany UU recycles and collects solar energy using solar panels that are out of sight on the roof.
---
Accessibility
The entire building is handicapped-accessible, with an elevator to all three floors, and a lift to the stage in Community Hall, as well as accessible bathrooms in the new wing.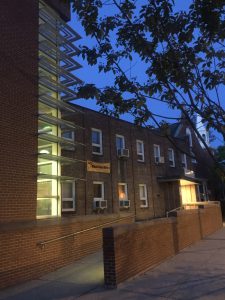 The Grounds
Our grounds outside the building are small, but our volunteer gardeners assure our gardens are beautifully maintained and are appreciated by our urban neighbors.
---
---