Renting Space
Rentals Available. Some of Albany UU's building spaces are available for rental use. Sanctuary, halls, and classrooms may be rented by members of the congregation and by non-members. We also make occasional donations or special arrangements with area non-profit organizations, as described below.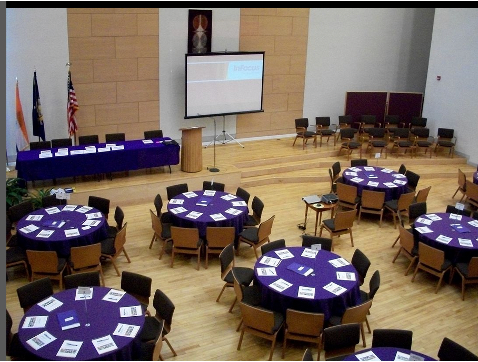 ---
Contact. All arrangements begin with contacting the church office (518) 463-7135 or office@albanyuu.org. You can discuss whether your needs can be met by Albany UU and, if so review space availability for the date(s) you require. To get started, please read the policy documents, fees, and floor plans found at the bottom of this page.

Special Arrangements for Donated or Discounted Rental Space. On limited occasions during the year, the First Unitarian Universalist Society of Albany [Albany UU] donates the use of specific facilities to nonprofit organizations with limited funding. The Social Justice Team may approve a donation or a rate reduction to an organization for a meeting or event that will provide a service to the community consistent with the focus areas listed below. If you believe that your event meets the criteria for a donation, please complete both the rental application and donation application form and submit them to: admin@albanyuu.org or in person, 405 Washington Ave. Albany, NY 12206.
Review Criteria. Albany UU's Social Responsibilities Council collaborates with other organizations in the community on issues of social concern. It focuses on three areas:
1. Making a difference in the lives of children and families in the city of Albany,
2. Becoming a leader in sustainable environmental practices, and
3. Advocating for public policies that are in line with our UU values and principles.
Description. Our facilities can accommodate a variety of special events from concerts and weddings to theatrical performances and nonprofit fundraisers. Community groups rent rooms on a monthly basis for various support groups; teachers rent space to give workshops; an organization can hold meetings they can't accommodate in their own space or even an off-site retreat. Weddings are held in the Sanctuary or Community Hall and can be followed by a reception in Channing Hall. Community Hall, which can seat 300 people with flexible seating, is also available for conferences and social events.
Accessibility. There is a handicapped accessible ramp at the Washington Avenue and the West Street entrances as well as an elevator that provides access to all floors. [Sam, someone pointed out to Jan recently that the outside Washington Street entrance after-hours buzzer is not reachable by someone in a wheelchair or on crutches.]
Parking. Situated in downtown Albany, parking is on the street. On special occasions and only when classes are not in session at the University at Albany (across the street) we can request permission to use their parking lot. Four to six weeks of lead time is needed to gain this permission. There is also a municipal lot two blocks east of the church on Washington Avenue.
Insurance. All renters will provide a certificate of insurance for their event. Typically this is provided by your homeowners' or business' insurance company. If you hire a caterer or DJ they will also need to show proof of insurance.
Room Use Requirements
Furniture. Tables and chairs in all rooms can be arranged as you wish. In some instances, non-profit and member renters may elect to do their own setup. Set up by staff is also available for a fee. Reset options are more limited and typically are done by staff for a fee.
Kitchen Use. We allow private caterers to deliver and serve food at our facility. Or, you can bring meals or refreshments in for your group. When your event ends, you (or your caterer) are responsible for clearing the rooms of all food, beverages, and garbage.
Equipment. Sound equipment (microphones and sound systems), easels, video projectors, and pianos (with the approval of our music director), are available on request. Renters must provide their own paper and markers for the easels and their own laptops to use with the projector.
Heating And Air Conditioning. Community Hall and the library (opened in 2007) are fully air-conditioned. In the Religious Education wing (1962 building) offices and some classrooms have window air conditioners. Channing Hall and the Sanctuary (1924 building) are also fully air-conditioned. All heat is operated by timed thermostats and is set by staff for your event. Please do not change thermostats.
Smoking. Allowed only outside the building on Washington Ave. Please use receptacles.
We reserve the right to change these terms and conditions without prior notice. We will do our best to update this page as changes occur.