Giving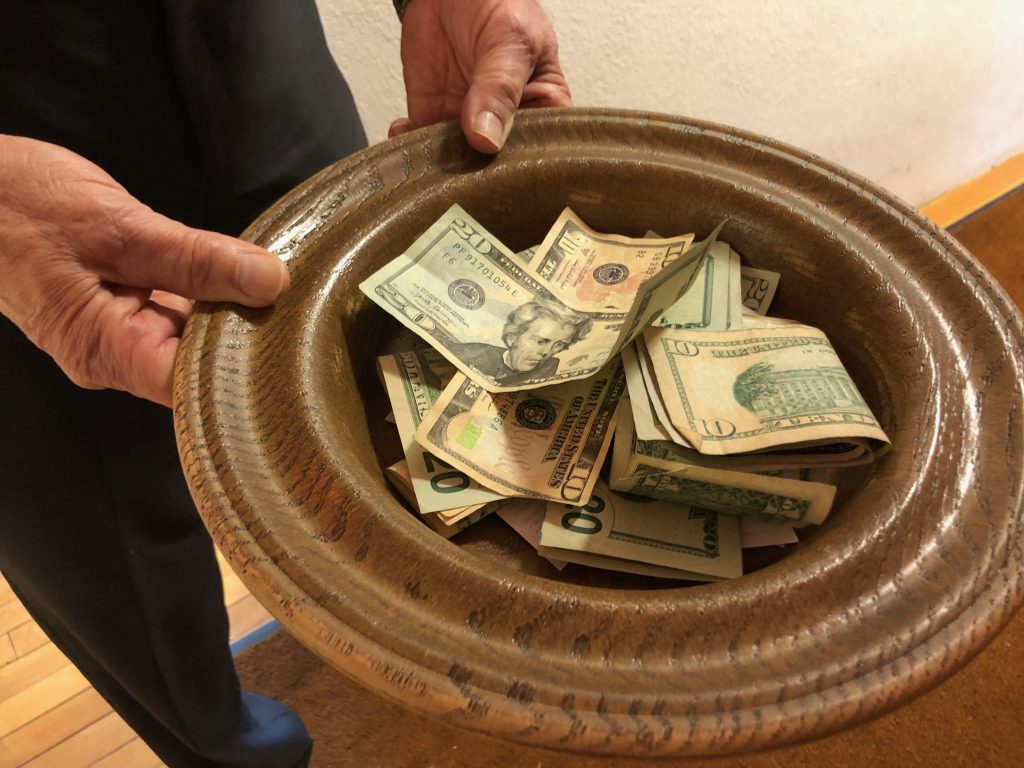 ---
Over 90% of Albany UU's annual funding comes from the individual financial commitments of members and friends. Your tax-deductible gift is an investment in our vibrant, visionary congregation.
How You Can Give Your Financial Support
Pledge. The most important way to give to Albany UU is to pledge to contribute a certain amount for the upcoming fiscal year (July 1 to June 30). For current members and friends, this pledge is made during our annual Stewardship Drive in the spring.  We encourage new members and friends to pledge when you make a commitment to Albany UU and then renew your pledge each year during the Stewardship Drive.
Donate:  Another way to give to Albany UU is to make a direct contribution or gift. Contributions can be given at any time. You can donate in cash, by check, by debit or credit, or through a transfer of stock.
Sunday Collection. We pass collection plates during every Sunday service's Offertory. Visitors are invited to contribute and all members can give a little extra. To record a cash contribution in your name, enclose it in an envelope with your name on it and put it in the collection plate. Labeled envelopes are available at Sunday service. For other ways to contribute while in service, see below.
Endow. Your gift or bequest to the Albany UU's Endowment Trust will help sustain our vital and nurturing congregational life, support our dreams for tomorrow, and maintain the beacon of Unitarian Universalism in our community. Learn more about The John Cross Legacy Society here.
How to Pay
Regardless of how you give, there are several ways to pay.
Online:  Set up an automatic recurring payment or make a one-time payment from your bank account or credit card. Because there is a charge to Albany UU for credit and debit card donations, you can select the box to add an additional amount to offset the charge. Donate online now.
By Text: Text your contribution to: 844-976-2618 and enter: dollar amount space purpose – e.g., 20 offering OR 20 pledge. Learn more here: http://albanyuu.org/wp/pdf/2020_GivePlus_Text_Quick_Guide-Vanco.pdf.
By Check. Mail a check to Albany UU, 405 Washington Ave., Albany, NY 12206 or place a check in the collection plate on Sundays. Be sure to note on the Memo line the purpose of the payment (Pledge 2023-2024, RE registration, Auction, Endowment Trust, etc.). You can also set up automatic payments through your own bank.
Transfer of Stock. You can pay by transferring ownership of stock to Albany UU. for more information
Albany UU Gives Too
Five Sundays per year, we give away our entire offering plate to a 501(c)3 organization that supports our commitment to social action and change in our community and wider world. Look for these opportunities in Windows Weekly Newsletter.
And every fourth Sunday of the month, Albany UU collects donations for the Focus Interfaith Food Pantry, which offers emergency food supplies to families and individuals in our neighborhood.